Sizing Chart
Singlets/Jerseys
Note: Women's singlets fit higher under the arm than men's singlets and in mesh fabric include a second mesh layer under the front.
Step 1
Lay a singlet or T-Shirt that fits you comfortably ( and would feel good to play in) on a flat surface and smooth it out. Always take measurements from a top – never take measurements of your body.
Step 2
Measure the LENGTH (measurement A) of your top from the top of the shoulder to the bottom of the hem, as shown in the diagram.
Step 3
Measure the WIDTH (measurement B) of your top across the chest from one side seam to the other at about 5cm below the armhole.
Step 4
Cross reference the A and B measurements to the chart to calculate your most likely size match.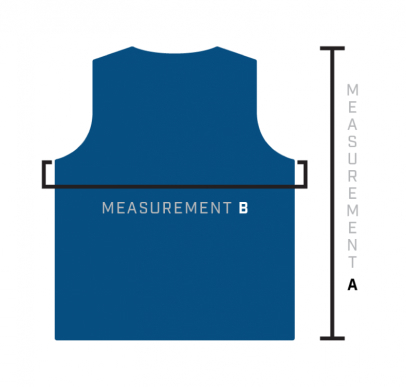 | Sizes | Measurement A | Measurement B |
| --- | --- | --- |
| 4XS | 56cm | 40cm |
| 3XS | 59cm | 42cm |
| 2XS | 65cm | 45cm |
| XS | 68cm | 47cm |
| S | 70cm | 48cm |
| M | 74cm | 52cm |
| L | 77cm | 54cm |
| XL | 80cm | 57cm |
| 2XL | 85cm | 59cm |
| 3XL | 90cm | 61cm |
| 4XL | 95cm | 62cm |
| 5XL | 100cm | 65cm |
Note: Sizes are approximate and minor variations can occur
Shorts
Sizes usually match singlet size
Can be ordered in a different size to singlet
Are a baggy basketball cut
Waistband is well elasticised with a strong cord tie
Are supplied as REGULAR length unless ordered specifically as LONGER length
In mesh are fully lined
Length of shorts
Regular
Length shorts on average fall a little above the knee.

Longer
Length shorts are 5cm longer and on average fall a little below the knee.

Extra length shorts
are available on request if more than 5cm extra length is required.
Guide to shorts length

Our Shorts Length Guide provides information for shorts length decisions. Being custom made our shorts may vary by up to 2cm in the overall length (waist to hem) depending on the fit and style.
Guide - Waist to hem length for regular (shorter) shorts
| Sizes | Length |
| --- | --- |
| 4XS | 35cm |
| 3XS | 37cm |
| 2XS | 39cm |
| XS | 42cm |
| S | 44cm |
| M | 47cm |
| L | 49cm |
| XL | 51cm |
| 2XL | 53cm |
| 3XL | 55cm |
| 4XL | 58cm |
| 5XL | 60cm |
Guide - Waist to hem length for long (5cm longer) shorts
| Sizes | Length |
| --- | --- |
| 4XS | 40cm |
| 3XS | 42cm |
| 2XS | 44cm |
| XS | 47cm |
| S | 49cm |
| M | 52cm |
| L | 54cm |
| XL | 56cm |
| 2XL | 58cm |
| 3XL | 60cm |
| 4XL | 63cm |
| 5XL | 65cm |