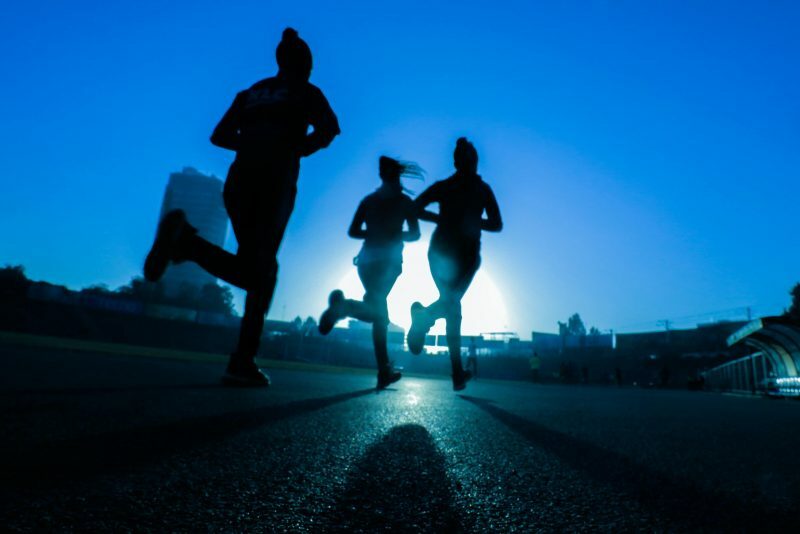 Australia's Top Sporting Activities
There are few countries as obsessed with sport as Australia. Especially down here in Melbourne, or as we like to call it - the Sporting Capital of the World. Whether we're pulling on our favourite basketball jersey and hitting the court or watching a game of cricket with our mates, sport runs through our DNA down here, especially at Vortex.
That's why we are so excited to have left a restricted 2020 behind us, and welcome a new year of exciting sporting events, on a local grassroots level as well as grand international events. And it just so happens that this year, February is a particularly good month for sport in our country. Not only do we have the normal summer sports like Basketball and Cricket, we also have the A-League soccer, AFLW and even the Australian open tennis to enjoy.
"Australians are lucky to have so many opportunities to get active. Our AusPlay survey records 385 types of sports and physical activities undertaken by Australians, and you may just need to find a connection with one of those to change your life for the better." - Sport Australia CEO Kate Palmer
Given the breadth and variety of sports on offer, we thought we would have a look at the numbers and see what sports Australians most enjoy doing.
CLUB SPORTS:
Club sports are a great way to build community, make friends and stay fit - so it is no wonder they remain popular amongst children and adults alike. But what are the most popular club sports in Australia?
The answer differs depending on your age. For children under 15, Soccer remains the most enjoyed sport - with a 12.5% participation rate - closely followed by AFL and Netball. For Adults (ages 15 and up), Golf takes out the top spot, with Football/Soccer and tennis coming in a close 2nd and 3rd.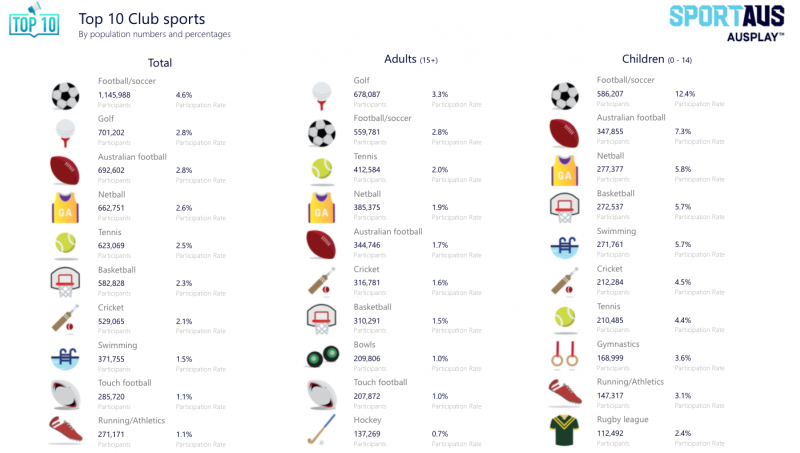 Across all ages, the leading sport is Football/Soccer with AFL coming second and Basketball edging out Cricket for 6th spot.
NON-SPORT PHYSICAL ACTIVITIES:
According to the latest AusPlay figures from Sport Australia, more than 82% of adult Australians participated in physical activity at least once a week in 2019. While traditional sports make up some of that, there are plenty of other recreational activities that get people out and moving.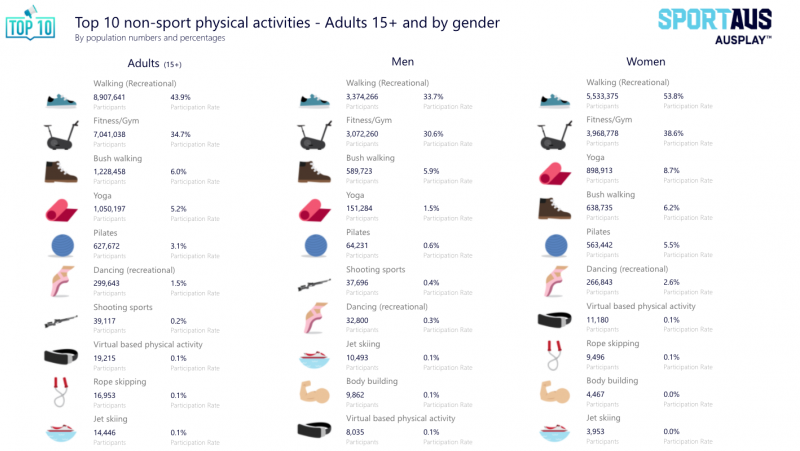 While Recreational Walking is the most popular physical activity across both men and women, it has a much higher participation rate amongst the latter, with 53.2% of women participating, opposed to just 33.2% of men. Fitness and gym activities were an equal second as well, with reasonably similar participation rates across both groups.
Bushwalking, Yoga and Pilates round out the top five.
ALL SPORTS AND PHYSICAL ACTIVITIES:
We've had a look at the popularity of club sports and non-sporting physical activities, but how do they all compare to each other?
Not surprisingly, individual physical activities such as walking and attending the gym were the most popular. Running, swimming and cycling make up the top five activities.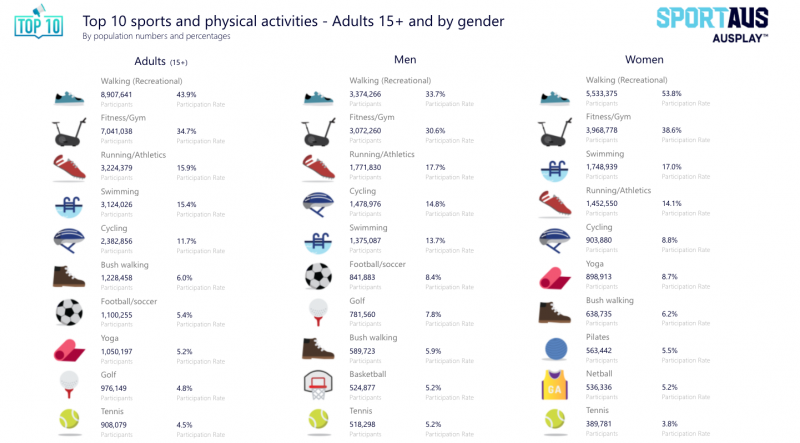 Football/ Soccer, golf and tennis represent the club sports in the top ten, however we were pleased to see that Basketball was the ninth most popular sport or physical activity amongst men.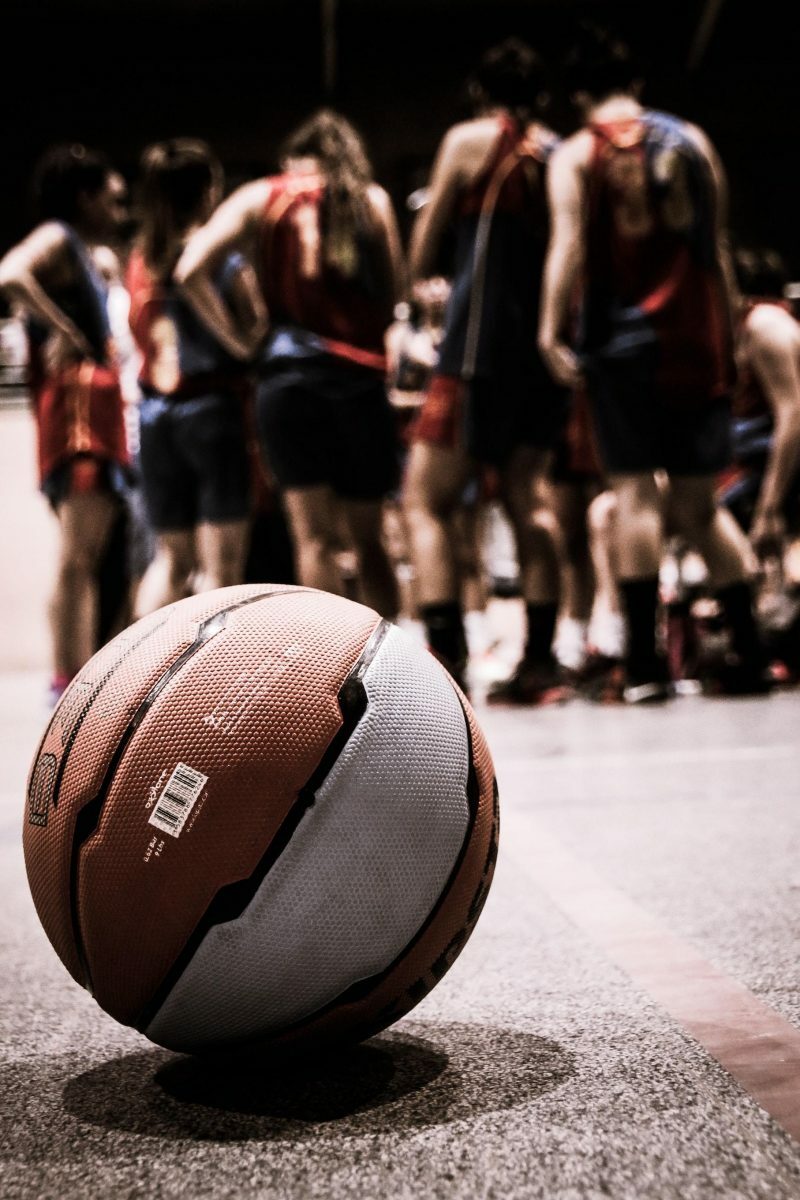 Basketball also:
Had a greater percentage of adult participation in remote or very remote regions compared to the overall Australian adult population
Had a greater percentage of participation for adults of Culturally and Linguistically Diverse (CALD) backgrounds compared to the overall population (3.9% compared to 3.5%)
Had a greater percentage of participation for adults of Indigenous culture compared to the overall population (5.6% compared to 3.5%)
It's great to see that sport is alive and well in Australia and that people are getting out, staying active and keeping healthy. This might be more important now than ever, as we make our way through what is hopefully the last year of the COVID-19 pandemic.
While we supply a whole range of custom basketball singlets, our range of other sports apparel, such as polos, hoodies and tracksuits, are perfect for just about any sport you're involved in. Take a look!