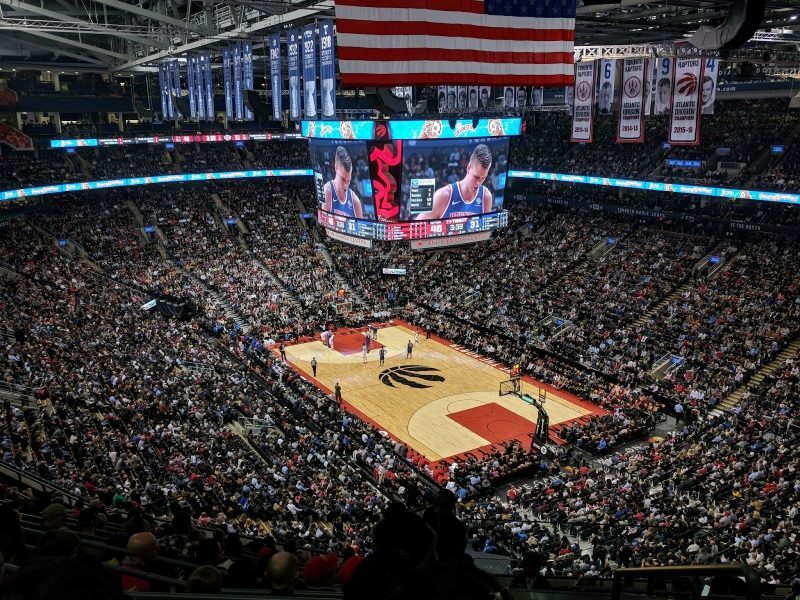 The Biggest Basketball Events This Year
2022 is a huge year for basketball fans, with World Cup qualifiers and the NBA finals all taking place in different countries across the globe. Whether you prefer the US-based leagues or international tournaments - there are plenty of quality basketball games to tune into this season.
We've compiled a list of some of the best events of the year, featuring top talent from both men and women's leagues. Whether you're planning to watch from home or looking to attend in person, here are the unmissable events of the season:
NBA FINALS
With the 2022 NBA Playoffs currently underway, there is no better time to be a basketball fan. During the playoffs, the best 8 teams from the East and West Conferences will battle it out to make the NBA Final (a series of up to 7 matches to decide the season winner).
The remaining teams are:
Eastern Conference:
Miami vs Philadelphia
Milwaukee vs Boston
Western Conference:
Phoenix vs Dallas
Golden State vs Memphis
Dates for the finals:
June 2: NBA Finals 2022 Game 1
June 5: NBA Finals 2022 Game 2
June 8: NBA Finals 2022 Game 3
June 10: NBA Finals 2022 Game 4
June 13: NBA Finals 2022 Game 5 (If necessary)
June 16: NBA Finals 2022 Game 6 (If necessary)
June 19: NBA Finals 2022 Game 7 (If necessary)
You can tune into the finals from Australia via Foxtel, Kayo or ESPN.
WOMEN'S FIBA BASKETBALL WORLD CUP 2022
2022 marks the return of the FIBA Women's Basketball World Cup. Held every four years, it is the biggest international women's basketball competition in the world - bringing together the 12 top women's national teams from across the globe.
This year, the event is being held in our very own backyard of Sydney. Set across 10 days (September 22 - October 1) and totalling 38 games, there will be no shortage of elite basketball action.

As the 2020 Tokyo Olympic gold medallist, the United States will be out to defend their title. However Japan, France and Serbia, who ranked 2nd to 4th respectively, will be hot on their tails.
Tickets are on sale now to see these games live in person in Sydney - don't miss it!
MEN'S FIBA BASKETBALL WORLD CUP 2023 QUALIFIERS
While the Women's World Cup kicks off this year, we will have to wait another year for the Men's event. That doesn't mean there isn't plenty of basketball action to enjoy in the meantime though. The 2023 Men's FIBA Basketball World Cup Qualifiers, which began in November 2021, will continue throughout this year.
Encompassing all four international regions (Africa, Americas, Asia and Oceania, and Europe), a total of 80 teams will play off to decide who will go through to the World Cup. The qualifying games will be set out across 6 different "windows" (a 9-day period in which the games will be played) to ensure there are regular international games for fans to enjoy.
This years remaining window dates are:
June 27 - July 5
August 22-30
November 7-15
February 20-28 (2023)
You can catch most FIBA World Cup 2023 qualifiers on ESPN.
Not only do teams get to battle for the right to hold up the FIBA Basketball World Cup, but the event will also qualify teams directly for the 2024 Paris Olympic games - so it is safe to say that there is a lot to play for this year!
During the qualification phase, teams play off against other nations in their region. Here is a quick look at how each region's qualifiers will work:
European qualifiers
Out of the 32 European nations that will battle it out for a spot in the World Cup, only 12 will get through. These matches are taking place between November 2021 and February 2023.
Americas qualifiers
The Americas qualifiers will see 16 teams become just 7. This region is made up of nations from Central America and Caribbean area, North American area, and South American area. With teams such as the USA, Argentina and Canada competing, this is sure to be a hotly contested qualifying series.
African qualifiers
During five qualifying windows, 16 nations will compete for only five spots at the FIBA Basketball World Cup. These nations are Angola, Cameroon, Cape Verde, Central African Republic, Congo DR, Côte d'Ivoire, Egypt, Guinea, Kenya, Mali, Nigeria, Rwanda, Senegal, South Sudan, Tunisia, and Uganda.
Make sure you don't miss the next window, on June 27 - July 5, 2022.
Asian qualifiers
Encompassing nations from both Asia and Oceania, the Asian qualifiers are always a hard-fought series. Including nations such as Australia, China, India and Japan, there are only seven spots available in the World Cup. Japan has already locked in one of these spots as host in virtue of its ranking, whereas The Philippines, who have also already qualified as the host of the World Cup's Final Phase, get an additional spot on top of the seven available to the region.

With so many nail biters on the horizon, we're certain this season will showcase some of the strongest talents in the game right now. Make a note of the dates to ensure you don't miss them!
Watching the greats is not only entertaining, but it can also help us improve our own techniques, strategy and confidence. We recommend getting the team together to watch the games as a group. Discussing the performances afterwards is a great team building exercise that helps motivate the players to reach their full potential.
Feeling inspired by the outfits of the season? Check out our latest basketball jersey designs or create your own unique uniform with our 'Design Your Own' feature.